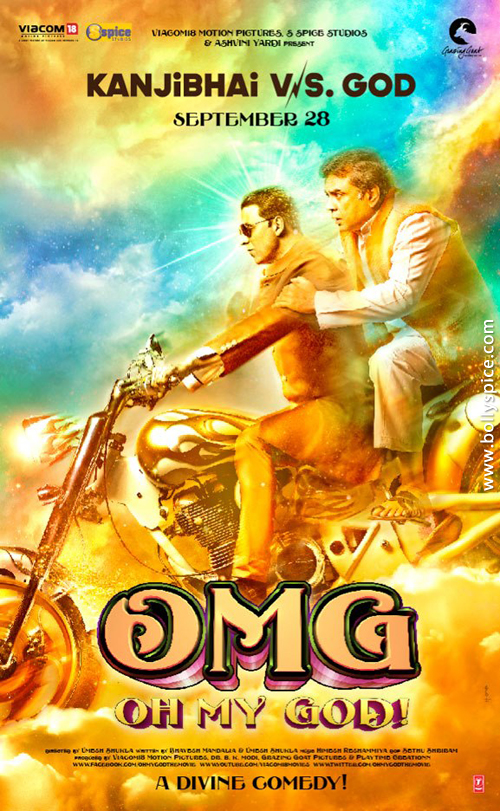 At the outset, OMG-Oh My God is a brilliant movie with a fitting and a very believable message. The excellently acted script has the ability to enrapture the audience, the young, the aged, the rich, the poor, the atheist or the devotee. Not only because the movie works at the emotional level where it touches the devotion chord, but it is also based on lucid logic with which the modern-day non-believers can connect. The honest story-telling and the subtle comedy of OMG make it a special movie in many aspects.
Kanji Bhai, an atheist Gujarati businessman owns an antique shop in the chor bazaar of Mumbai. He means business and keeps himself completely away even from the small temple of Krishna, which his wife maintains in the house. Even so, he drags his family out of a religious event full of devotees, and vacates the entire place with his skill of public-engaging motivation-speaking. An act of divine revenge follows in which, his, and only his shop in the entire market gets destroyed in a selective earthquake. It later gets labeled as an 'act of God'. Left stranded in neck-deep borrowings, Kanji decides to drag God and the system of religion into court to seek justice.
Here begins his battle. Here is where it gets interesting.
A well-bound story line, commendable acting by Paresh Rawal, and the overall clean humor of the movie make up for the glitches. The audience get too happy to find faults with Akshay Kumar's (although a loveable) side role appearing bland. Spectacles might become a lucky charm for the struggling centurion actor.
OMG is a mock-mirror thrown at those who have made religion nothing but an apparatus to mint money. It is a joke on the sadhus, and the babas who in the name of religion give false hopes to innocent people in exchange of their daily wages.
It brings back the faith of mankind to the almighty by means of light-minded humor and logic (which is usually kept at bay while explaining God).
Above all, it passes down a simple message that "God is everywhere".
This review will be incomplete if it doesn't praise the courage the producers of OMG to release this movie at a time when the religious sentiments of some people have been hurt. The movie conveys the age-old preaching of the oneness of religions in a humor-filled yet serious way.
Watch this first-of-its-kind devotional movie and get enthralled.
Sages call it by different names."
— Rig Veda (c. 4000 BC)